hello, check out our graphic recording FAQ.
I have a really cool event coming up and want Sketch Post to visualise it. How does this work?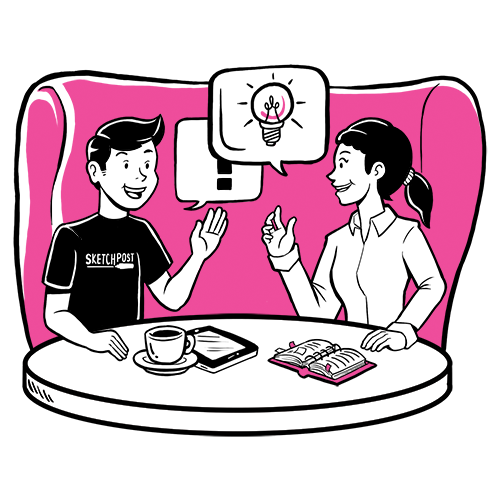 Let's meet up to understand what you need for your event & how graphic recording can enhance the experience.
Drawing materials will be couriered to your venue a few days before the event.
Once the agenda & presentation slides are ready, send them over to us.
On event day, we will arrive bright & early to set up our space.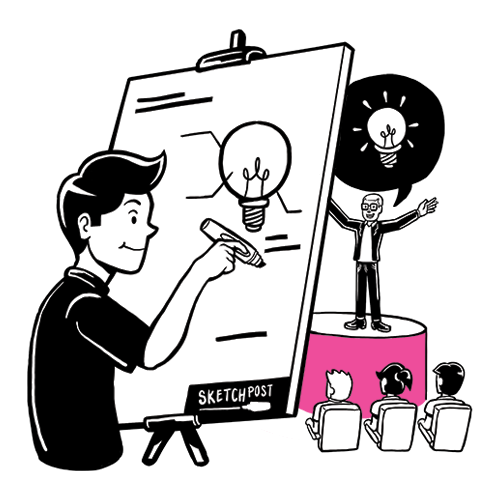 Watch the magic happen as your event kicks off!
We will provide a compilation of the graphic recordings in digital format, ready for web and print.
Does Sketch Post do on-the-spot Graphic Recording that can be ready after a session?
Yes, we do on-the-spot graphic recording. The originals you will receive are functional in nature. They are created live and in the moment. As such, while attractive and engaging, they will not have the quality and level of perfection of studio created graphics. You may have us create a studio-perfected version for an additional fee.
What materials or stuff do you require for your Graphic Recording?
Pre-event
Info & reading material on your discussion topics.

Presentation slides.

Profile pictures of speakers to create portraits.
Event Day - GR on Boards
Space to draw with a clear view of the stage.

Chair & table (roughly 2 x 4ft) for our stationery.

Easels to support foam core boards.
Event Day - GR on iPad
Sketch Post will bring: iPad, Laptop, chargers, HDMI cable (2m length).

Drawing will be done on an iPad and connected to a laptop.

Laptop will then be connected via HDMI for projection (Projector, TV etc.)
Sketch Post will require the following items at venue
Power points (x2) to charge laptop and iPad.

Chair & table (roughly 2 x 4ft).

WiFi.
So how much do I need to invest for Sketch Post's services?
We have basic fees for half day and full day sessions. We're open to discuss packaging options and retainers. Will work with you to find a solution that fits your budget. Special rates for non profits are available upon request.
Fees include basic pre-event prep and creation of a post event PDF compilation. A deposit of 50% is required to secure dates. Remaining 50%, plus direct expenses incurred, will be invoiced upon completion of work.
Currencies we can bill in:
• SGD Singapore Dollar
• HKD Hong Kong Dollar
• MYR Malaysia Ringgit
• USD United States Dollar
Travel expenses (transport & accommodation) for below cities are waived:
• Singapore city
• Hong Kong city
• Kuala Lumpur & Petaling Jaya (Malaysia)
Please note that direct expenses for other cities are additional (travel, accommodation, additional materials, etc.).
LIKE WHAT YOU SEE?
If you have a project in mind or simply curious about us, tell us more!
Or fill in this form.